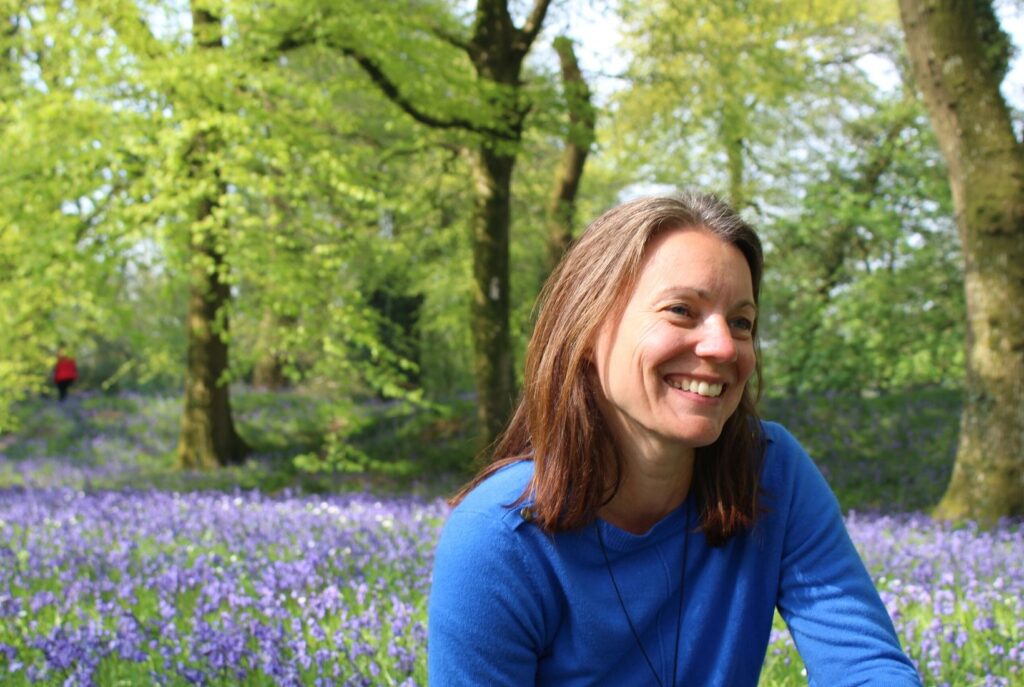 Hi I'm Vicki Montague, business owner, Three Principles coach, mum and, although I didn't know it until a few years ago, a lifetime worrier.
Worry has affected many areas of my life, preventing me from doing lots of the things that I was capable of.
I have memories of creeping downstairs as a child, unable to sleep, curling up on my mum's lap while she watched TV. I can also recall night after night of making my poor mum sit outside my bedroom while I fell asleep. Worried that if she wasn't there something might happen to me.
That worry continued into adulthood. I struggled through university studying biochemistry and genetics, taking beta blockers for a time to bring down my raging adrenaline levels. Insomnia was real and I walked around in a constant state of anxiety (although I still had no idea that was what it was).
Having a family gave me more things to worry about. What would happen if I lost one of them or if they got sick?
Insomnia returned with a vengeance . I tried everything from hypnotherapy to mindfulness but nothing seemed to help.
At the end of 2011 I was made redundant from my job and I set myself up as self employed doing various different things.
I started a blog, the Free From Fairy, when my son started pre-school in 2012. The aim was to share my 'free from' recipes after my daughter had been diagnosed with egg and milk protein allergies along with coeliac disease.
My self doubt held me back from carrying through with many of the ideas I had, and those that I fulfilled were done by gritting my teeth, feeling the fear, and doing it anyway. It was uncomfortable to say the least.
By 2018 I was struggling (not that anybody knew).
My Irritable Bowel Syndrome (IBS) had flared up a few years beforehand and I had been following various strict diets to try and get on top of it.
I felt miserable and didn't know what to do. There was no outward reason for my feelings of lack. I had a beautiful family, home and friends. But I felt there was something missing.
I returned to yoga and meditation, read numerous self help books, tried EFT (tapping), aromatherapy and all kind of other 'woo woo' things. But there was still something holding me back. I had so many limiting beliefs that I felt completely stuck.
Then mid-2018, in my searching, I came across Michael Neil and the Three Principles. I read his book, The Inside Out Revolution, and although I didn't fully understand it I had heard something that resonated with me.
Next I found Nicola Bird from A Little Peace of Mind. Again, I didn't fully understand what she was saying but I couldn't stop listening to her.
By the middle of 2019 my life had started to change in ways I couldn't fathom. I felt more peace, more happiness, less fear. I started doing things in the Free From Fairy business that I had wanted to do for years but been too scared of. The relationship with my kids became easier, I shouted less and felt even more love and gratitude for them.
I stopped taking my thoughts seriously and life dramatically changed. I saw that my mind and body were beautifully set up. Whatever passed through my mind in the form of thought had an associated feeling in my body, and created my experience in the world.
When I had scary thoughts, I felt scared and life looked scary. When I had happy thoughts, I felt happy and life looked full of optimism.
At the same time I saw that I had no control of my thoughts; but that they passed through me if I didn't listen too seriously to them.
I also saw that my feelings were the perfect indicator of whether my thinking was helpful or unhelpful.
Contrary to what I had always believed, if I felt bad it didn't mean I had to spend more time thinking about the perceived problem.
But rather, I could use the feeling as the perfect alarm telling me to not take the thoughts seriously and to engage back in the now.
In the now, the present moment, I found that I was able to access my innate inner wisdom, creativity and resilience. The space before thought where new ideas, fresh thinking and the answers to perceived problems lie.
Now I live a life free from worry, anxiety and fear. I see that problems are created through my own thinking and that there is no objective experience of life.
I am living a life free from limits; free from the limitations of my personal thinking. Open to the limitless potential that we all have access to when we fall out of thought and into the present moment.
My experience
In my 20's I trained to be a person centred counsellor (BTEC in counselling skills) and used my skills working with homeless people. Although I loved counselling, there was something missing and I didn't continue in that profession.
Then, shortly after having my second child I trained as a Practitioner of Neurolinguistic Programming (NLP) with John Seymour of JSNLP.
Again, although I loved the idea of NLP, something didn't feel 'right' about it so I didn't go on to work with clients using it. (Oh and there may well have been rather a lot of self doubt too!).
After discovering the Three Principles in 2018, I knew that I would be sharing what I had found with others using this understanding.
In April 2019 I trained with Nicola Bird to become A Little Peace of Mind Mentor, running physical meet-ups for people experiencing anxiety, stress, busy-headedness and panic attacks.
Then in September 2019 to March 2020 I trained with Nicola Bird and John El Mokadem to be a Three Principles Practitioner/Coach. I carried out 60 hours of assessed practice during this time.
Now, as a Three Principles Coach, I share how to find your own innate mental wellbeing and your own internal guidance system that always guides you moment by moment with ease and grace.
---